And just like that, July ushers in August. I've always liked August because I have fond memories of school holidays and getting up at 4am to go off on holiday with my family.
This month, I won't be going on any summer holidays (unsurprising, given the pandemic), but I will be participating in two readathons.
The first is Merlin Readathon, which is based on the BBC TV show Merlin and follows a quest-style path where you pick your reading choices based on which route you want to take.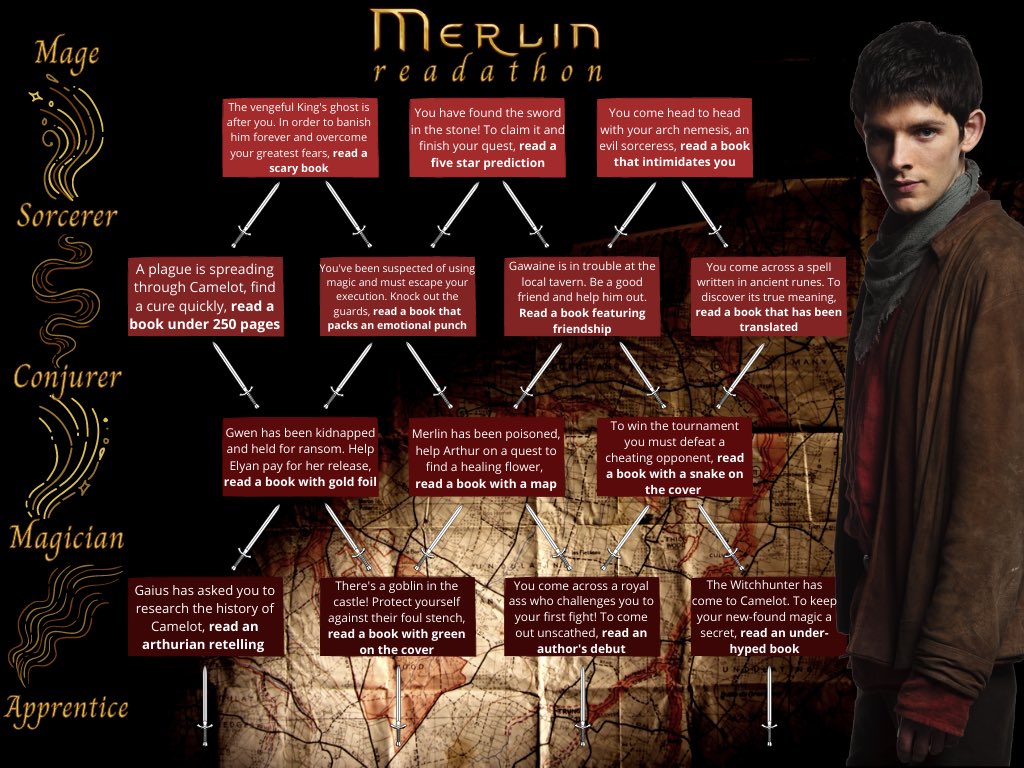 I used to LOVE Merlin when it was on TV (seasons 4 and 5 were the best, but we DO NOT talk about the final episode(s), I'm still not over it and could write an essay on how it should have ended) so I decided to take part in this for a bit of fun nostalgia.
The route I'm going to take is author's debut > book with a map > book featuring friendship > five star prediction.
Here's my TBR for Merlin Readathon
Assembly – Read an author's debut
She Who Became the Sun – Read a book with a map
Rumaysa – Read a book featuring friendship
The Magic Fish – Read a five star prediction (I also considered choosing She Who Became the Sun for this)
---
The second readathon I'm taking part in this month is Read Fat Positive, hosted by Ali over at Reverie with Ali.
This readathon is a week long, running from 16th to 23rd August, and is all about reading and celebrating books with plus size representation.
For this readathon, I'm hoping to read three books.
Teach Me
When Martin Krause arrives at Rose Owens's high school, she's determined to remain chilly with her new colleague. Unfriendly? Maybe. Understandable? Yes, since a loathsome administrator gave Rose's beloved world history classes to Martin, knowing it would hurt her.
But keeping her distance from a man as warm and kind as Martin will prove challenging, even for a stubborn, guarded ice queen. Especially when she begins to see him for what he truly is: a man who's never been taught his own value. Martin could use a good teacher–and luckily, Rose is the best.
Rose has her own lessons–about trust, about vulnerability, about her past–to learn. And over the course of a single school year, the two of them will find out just how hot it can get when an ice queen melts.
The Other F Word
Chubby. Curvy. Fluffy. Plus-size. Thick. Fat. The time has come for fat people to tell their own stories.
The (Other) F Word combines personal essays, prose, poetry, fashion tips, and art to create a relatable and attractive guide about body image and body positivity. This YA crossover anthology is meant for people of all sizes who desire to be seen and heard in a culture consumed by a narrow definition of beauty.
Here the Whole Time
Felipe gets it — he's fat. Not chubby. Not big-boned. Fat. And he doesn't need anyone to remind him, which is, of course, what everyone does. That's why he's been waiting for this moment ever since the school year began: school break.
Finally, he'll be able to spend some time far away from school and the classmates who tease him incessantly. His plans include catching up on his favorite TV shows, finishing his to-be-read pile, and watching YouTube tutorials on skills he'll never actually put into practice.
But things get a little out of hand when Felipe's mom informs him that Caio, the neighbor kid from apartment 57, will be spending the next 15 days with them while his parents are on vacation. Felipe is distraught because A) he's had a crush on Caio since, well, forever, and B) Felipe has a list of body image insecurities and absolutely NO idea how he's going to entertain his neighbor for two full weeks.
Suddenly, the days ahead of him that once promised rest and relaxation (not to mention some epic Netflix bingeing) end up bringing a whirlwind of feelings, forcing Felipe to dive head-first into every unresolved issue he has had with himself — but maybe, just maybe, he'll manage to win over Caio, too.
---
Other books I'm hoping to read this month
Citizen
Claudia Rankine's bold new book recounts mounting racial aggressions in ongoing encounters in twenty-first-century daily life and in the media.
Some of these encounters are slights, seeming slips of the tongue, and some are intentional offensives in the classroom, at the supermarket, at home, on the tennis court with Serena Williams and the soccer field with Zinedine Zidane, online, on TV-everywhere, all the time.
The accumulative stresses come to bear on a person's ability to speak, perform, and stay alive. Our addressability is tied to the state of our belonging, Rankine argues, as are our assumptions and expectations of citizenship.
After the Dragons
Jaded college student Xiang Kaifei scours Beijing streets for abandoned dragons, distracting himself from his diagnosis.
Elijah Ahmed, a biracial American medical researcher, is drawn to Beijing by the memory of his grandmother and her death by shaolong.
Interest in Beijing's dragons leads Kai and Eli into an unlikely partnership. With the resources of Kai's dragon rescue and Eli's immunology research, can the pair find a cure for shaolong and safety for the dragons?
Eli and Kai must confront old ghosts and hard truths if there is any hope for themselves or the dragons they love.
Sugar and Spite
Jolina can't take Claudine's bullying any longer! The taunts and teasing are too much. Though Jolina knows she's still in training to use her grandfather's arbularyo magic, she sneaks into his potions lab to get her revenge. Jolina brews a batch of gayuma, a powerful love potion.
And it works. The love potion conquers Claudine's hateful nature. In fact, Claudine doesn't just stop bullying Jolina — now she wants to be Jolina's BFF, and does everything and anything Jolina asks.
But magic comes with a cost, and bad intentions beget bad returns. Controlling another person's ability to love — or hate — will certainly have consequences. The magic demands payment, and it is about to come for Jolina in the form of a powerful storm…
---
What are you planning on reading in August? Have you read any of these books?