Please continue supporting the Black Lives Matter movement. The Black Lives Matter cardd is constantly being updated with new information, petitions, and resources.
---
If you've attended YALC in the past, you'll know that this coming weekend, 24th – 26th July, should have been YALC 2020.
Sadly, Covid had other plans and the convention had to be cancelled. YALC is one of the highlights of my summer so I'm sad that it's not happening this year, but ultimately it's for the best.
The risks of running a convention with thousands of attendees during a pandemic are too big and it just wouldn't be safe.
Despite YALC not taking place this year, there are still plenty of fun things you can do this weekend instead. I've rounded up seven ideas to keep you occupied and entertained this weekend.
---
Attend #AtHomeYALC
Because the convention couldn't go ahead in person, the YALC organisers are running a whole host of virtual events instead. There will be panels and talks with lots of different authors right across the weekend.
Walker YA and My Kinda Book are also running virtual panels, so make sure to check out what's on offer from each imprint.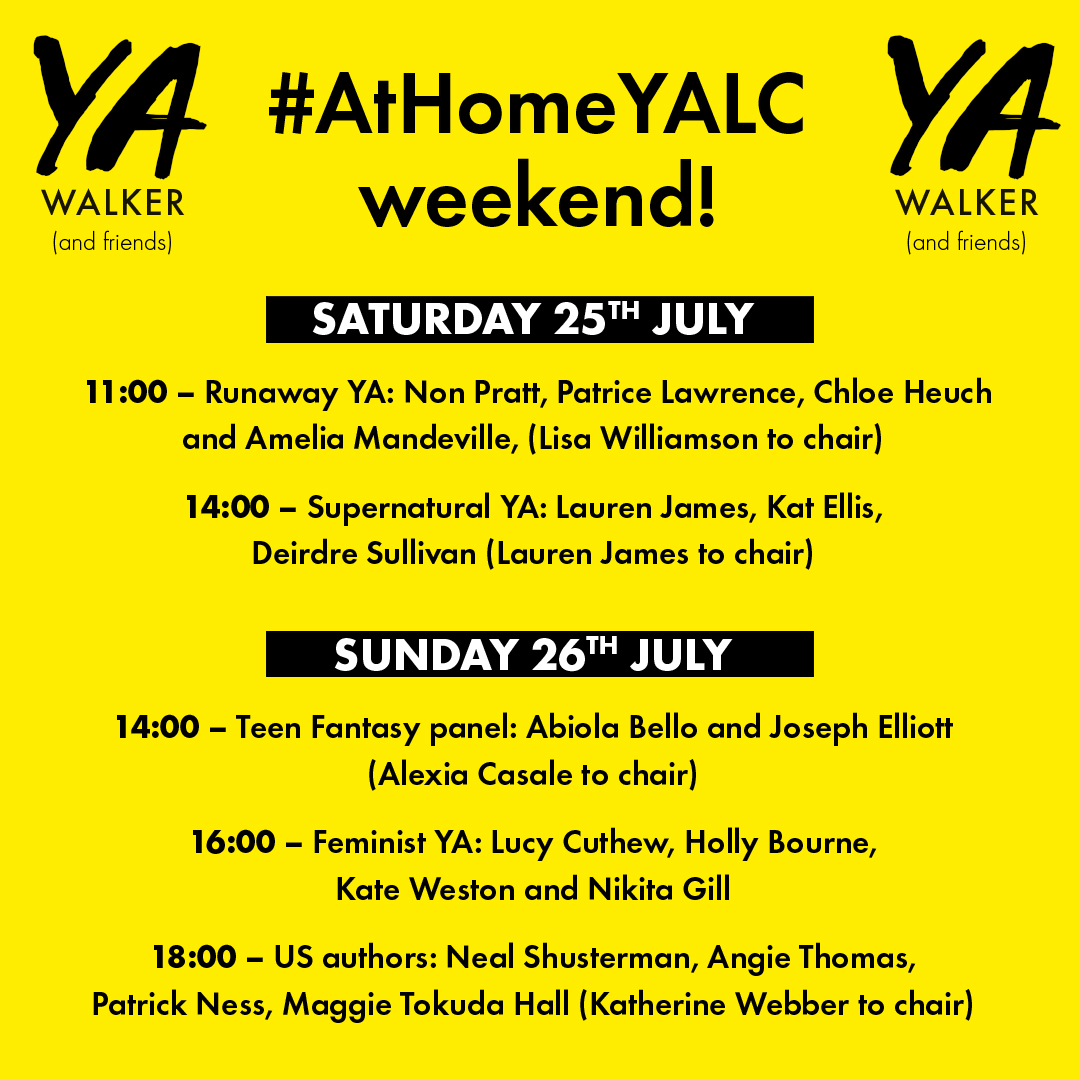 The UKYABAs (UKYA blog/vlog awards) will also be happening this weekend, with the winners being announced in an awards ceremony on Saturday 25th at 5pm.
UKYABA and YAShot are also hosting panels with nominees from each category on Friday and Saturday. You can catch me in the Creating Unique Posts panel on Friday 24th at 6pm. (Check out UKYABA on Twitter and their YouTube channel for more details.)
Video call your friends for three days straight
OK, maybe don't call your friends for three full days (please sleep instead), but if like me you're missing hanging out with pals over YALC weekend, then get them together on a video or zoom call.
If you buy snacks from Tesco, sit on the floor, and turn the heating on, it will almost feel like you're actually at YALC. 😉
But in all seriousness, your friends might be struggling with the pandemic or be keen for a catch up and might really appreciate hanging out virtually and chatting about books.
You could even do a group read-in where you all chill together and read for a few hours over a video call!
Set up your own YALC stall
OK, this is just a bit of fun, but if you want to truly recreate the YALC experience then set up your own stall.
All you'll need for this one is a table, ironing board, or some kind of stand and someone else in your house (anything with a flat surface will work).
Instructions:
1. Get your volunteer to choose some of your books and merch for your 'stall' and to arrange them. Bonus points for if you have balloons or any other cool decorations on your stand.

2. Go into another room so you don't know what the stall looks like.

3. Once your volunteer is done, walk up to the stall and immediately get excited about the books.

4. Start talking to your volunteer about how much you're anticipating X book and how much you loved Y and Z books.

5. Watch your volunteer look baffled because they're not a publicist or (possibly) not part of the book community and therefore don't know what you're talking about.

6. Take some free merch and 'buy' a book. Payment can be in the form of chocolate, sweets, Monopoly money, or household chores.

7. Leave the stall feeling warm and fuzzy and crying over your book.
Voila. You've created and experienced your very own YALC stand.
Take part in a bookish treasure hunt
I loved trying to find different items on the YALC convention floor last year, so I'm thinking about setting up my own treasure hunt this year.
All you'll need for this is someone who's game to hide things from you. They can pick some books and merch, and hide them around your house (and garden if you're feeling particularly daring).
They can then tell you which items you're looking for and you can go hunt them down. If you want to up the stakes, set a time limit for the treasure hunt or prizes if you win.
My prize is going to be asking my Dad to buy me a book.
If you've been following me for a while, you'll know that my Dad is constantly asking me when I'm going to 'get rid of some of those books'. So this is the ultimate payback.
Take part in YALCathon
In the past, I've run a post-YALC readathon with the aim of reading some of the books and ARCS picked up at YALC.
This year, because YALC isn't taking place in person, I'm not hosting the readathon.
BUT, Vicky over at @WhatVickyRead is hosting a readathon over YALC weekend under the same name.
So if you want to spend the weekend getting lots of reading done, check out Vicky's post about the readathon and give it a go.
Buddy read a book with someone you'd normally go to YALC with
Another way to stay connected with friends that you would have normally been hanging out with (as well as your three day video call) is to buddy read a book with them.
I always find that buddy reading brings me closer to people because you're having a shared reading experience, so why not read a book together as a different way of 'spending the weekend together'. You'll also be getting through your TBR, so it's a win-win situation.
Create your own 'mystery book' challenge
There are lots of bookstores and companies like How Novel that offer mystery books, where the book is wrapped and you get to pick a book based only on hints of what it's about.
But this can be turned into a challenge/game too. Get your trusty volunteer (they're probably going to be a bit beleaguered at this point so maybe bribe them with chocolate?) to pick some books off your shelves.
Make sure you don't see which books they've chosen.
Then get them to wrap up the books and write 'hints' on them relating to the plot, characters, or key themes.
Once they're wrapped, use the hints to try and guess which book is which within 30 seconds. The winner gets the glory of being able to claim that they know their bookshelves inside out.
---
I hope this post gives you a few fun (and light-hearted) ideas for things you can get up to during what would have been YALC weekend. I would love to know if you try any of these out!
What will you be getting up to this weekend? Will you be doing any of the things on this list?