Please continue supporting the Black Lives Matter movement. The Black Lives Matter cardd is constantly being updated with new information, petitions, and resources.
---
In June, I read nine books, which was slightly less than I was hoping for, but an amount I'm pretty happy with.
Three of the nine were for my LGBTQ+ month readathon TBR, but these three ended up doubling up for 8 out of the 9 prompts.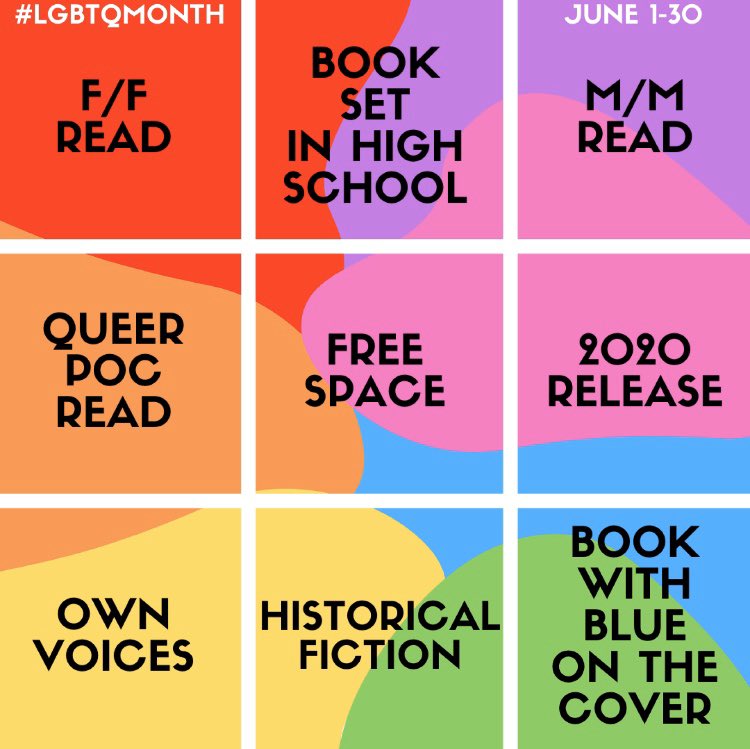 The Henna Wars doubled (quadrupled?) for an F/F read, an Own Voices read, a book set in high school and a QPOC read.
I read All Boys Aren't Blue for the blue cover prompt, and A Little Light Mischief worked for the historical fiction prompt. So the only one I ended up missing out on was the M/M prompt.
The Henna Wars // 4 stars // Audiobook
TWs: Homophobia, public outing of a character, racism, Islamophobia, cultural appropriation, bullying.
The story follows Nishat as she comes out to her parents, and starts a henna business for school. I felt sorry for Nishat at the beginning of the story because her parent's don't react positively to her coming out, and she then has to contend with Flavia appropriating her culture.
I thought this was going to be enemies-to-lovers, but it ended up being more like friends-to-rivals-to-lovers. The discussions about racism, cultural appropriation, and the complexities of religion and sexuality were really well narrated and woven seamlessly into the plot.
---
All Boys Aren't Blue // 4.5 stars // Audiobook
TWs: sexual assault, racism, homophobia, death of a friend, physical violence.
This is a moving, beautifully-narrated YA memoir about George M Johnson's childhood, adolescence, and college years. He talks about the racism he's experienced, the complex, close relationships he has with different family members, and his experiences as a Black gay man growing up in the 1980s and 90s.
I listened to this on audio and the audiobook is brilliantly narrated by the author. He describes the key moments in his life with raw feeling and power. I always enjoy it when authors narrate their own work, but this is perhaps the best instance of this I've ever listened to.
---
You Should See Me in a Crown // 4 stars // Audiobook
TWs: Racism, homophobia, anxiety.
I loved this so much. It was such a feel-good, uplifting story about Liz's quest to make prom court so she can get into her college of choice. I adored Liz as a character and I was rooting for her from the first chapter. Every time something went wrong for her, I wanted to jump into the book and protect her.
The sapphic romance was so sweet and the prom scenes made me melt. The discussions of racism and homophobia were incredibly important and so powerful.
I listened to this on audio and it was so well narrated. If you're looking for a fun, queer-positive contemporary, then 100% pick this one up.
---
A Little Light Mischief // 3 stars // Audiobook
TWs: Mentions of attempted sexual assault, gaslighting, sexism.
This was a fun sapphic romance about a lady, Alice, and a thief-turned maid,Molly, who start to fall for each other. I listened to this on audio and the narration was entertaining, if a little heavy-handed at times.
The two main characters decide to steal an item of Alice's back from the man that took it from her, and I enjoyed the empowered, feminist moments in the story.
Although not the most memorable of stories, this was (mostly) light-hearted and had some sweet moments between the two main characters that I really liked.
---
Tarnished Are the Stars // 3 stars // Audiobook
This is billed as a YA sci-fi novel, but it wasn't quite what I expected. The characters rarely spend any time in space it doesn't play a big role in the story.
The plot jumps around a little at times, and although I enjoyed the action sequences, sometimes characters did things that just didn't make sense.
Having said that, I loved the discussions of asexuality and aromanticism and the F/F romance was fun, if a little contrived at points. With a few tweaks to the plot and pacing, this could have been a really exciting, rip-roaring story.
---
Laura Dean Keeps Breaking Up With Me // 4 stars // Paperback
TWs: gaslighting, emotional manipulation, teenage pregnancy, abortion.
This was such a slow-moving, tranquil story about love, friendship, and supporting the people you care about. Freddie keeps being broken up with my Laura Dean, but keeps getting back together with her, despite the concerns of her friends.
I liked the way this story illustrates the melancholic, timeless moments of being a teenager. It explores the trauma of teenage pregnancies and the intoxicating nature of first love. The art style is so beautiful, and I loved the way the artist captured facial expressions.
---
The Empress of Salt and Fortune // 4.5 stars // e-book
TWs: Violence, murder.
Lyrically and masterfully told, this novella spans two timelines as Rabbit tells tales the story of Empress In-yo's life to Chih, a cleric trying to find out what really happened.
This story is an Asian-inspired unapologetically feminist tale about women taking back political power when they're given none. It's about outwitting men who underestimate them and creating a fairer society.
Chih is non-binary and it's implied that the Empress and Rabbit had romantic feelings for one another. Rabbit says she 'loved the Empress' but we never find out whether this is a plantonic, romantic, or sexual love. But it's heavily implied that the Empress is either bi or pansexual. Both sexuality and gender are treated as very fluid in this story, and I loved that.
For a short novella, this book has so much power. Every chapter is filled with emotion and the final scenes had me almost in tears because they were so moving and poignant. I'd highly, HIGHLY recommend this one.
---
A Song Below Water // 3.5 stars // Audiobook
TWs: Off-page death, racism, microaggressions, police brutality, violence.
This book follows Tavia, a siren, and Effie her best friend as they try to navigate high school and keep Tavia's identity a secret. I really liked Tavia and Effie's sisterly bond and the world-building in the story was really cool.
The prejudice and violence against sirens in this story was used as a way of demonstrating the awful treatment Black women have to deal with from the police and society in general. Tavia is pulled over by the police for no reason and harassed by girls at her school. She's made to fear her powers by others, rather than celebrating them. The way racism is woven into the story is incredibly raw, visceral and powerful.
The plot was a little slow and disjointed at times, but there were some great twists toward the end. The dual POV narration on the audiobook works really well for the story, and I really liked the final chapters.
---
The Red Threads of Fortune // 4.5 stars // Audiobook
TWs: Emotional manipulation, violence, deliberate misgendering of a character.
I loved this book SO MUCH. For me personally, this book ended up being even better than the first in the series. Akeha, Mokoya, and Tenjay all return, older and more experienced, and this time they're trying to stop a naga from attacking Bataanar city, where Akeha has set up camp with the machinists.
The narrative style is just as eloquent and captivating as the first book, and we get to see more world building. JY Yang also expands the magic system further, showing is more of what those who control the Slack can do (which I was very happy about).
I loved the introduction of Rider as a new, mysterious character, and the interactions between Akeha, Mokoya, Tenjar and Rider were fantastic. We also get more LGBTQIAP+ rep in this novella, as Rider is non-binary and there's a new queer relationship introduced.
---
In June, I posted about the LBGTQIAP+ readathons taking place during Pride month.
I shared a collaborative post, where 30+ bloggers and readers talk about their favourite queer books, and new queer releases they're looking forward to.
I also announced the Victoria Schwab-themed readalong that Alison and I are hosting throughout July, August, September, and October.
Before the pandemic, I'd hoped to go to my first ever Pride parade in June 2020. But alas, Covid decided it wasn't to be.
Instead, I read lots of queer books, watched Pride, Queer Eye, and other LGBTQIAP+ shows, and generally tried to wear as many rainbow items of clothing as I could.
I hosted a series of YouTube live shows on my channel about LGBTQIAP+ books, TV shows, and films, blogging, and Pride in the UK. This was the first time I've ever hosted any liveshows, and I had such a fantastic time! All my guests were amazing, and I want to say a HUGE thank you to all of them for agreeing to be part of the series.
The lives are up on my channel now, if you want to check them out!
June was also my birthday month, and despite lockdown still being in place, I had such a lovely day. My parents and I went to a National Trust site and had a picnic and a walk through the deer park. The weather was mild, the picnic was delicious, and the deer were gorgeous.
When we got come, I opened presents from friends and family. I got an amazing box from a group of friends, with some fantastic gifts in, including Avengers earrings, books, A Darker Shade of Magic merch, and a voucher for my favourite doughnut shop.
I also got a stack of wonderful books from other friends, so if you sent me a book as a birthday gift, THANK YOU SO MUCH! I was overwhelmed by how generous everyone was. ❤
So although June didn't quite go how I imagined it would at the beginning of the year, it ended up being a pretty good month.
---
What did you read during June? Did you do anything fun for Pride month?