Before I talk about the books I'm hoping to read in June, I want to share the link to the Black Lives Matter cardd, which has many links to petitions you can sign, useful information, and organisations accepting donations in support of the Black Lives Matter movement.
Please make sure you're continuously uplifting Black people's voices and supporting the BLM movement in every way possibly can. Listen to what Black people are saying, sign petitions, educate yourselves, and talk with your friends and family at home about being actively anti-racist.
---
June is one of the my favourite months of the year. It's summer, it's pride month, the nights are long and warm, and it's my birthday month. (The universe was totally giving me a sign by being born in pride month.)
Because I'm here, queer, and excited, I'm taking part in LGBTQ Month, a month-long readathon running from 1st to 30th June.
The readathon is being hosted by Ross and Megan and is celebrating all things pride.
These are the optional prompts you can choose whether or not to complete throughout the month. I'll be aiming to do all eight if possible.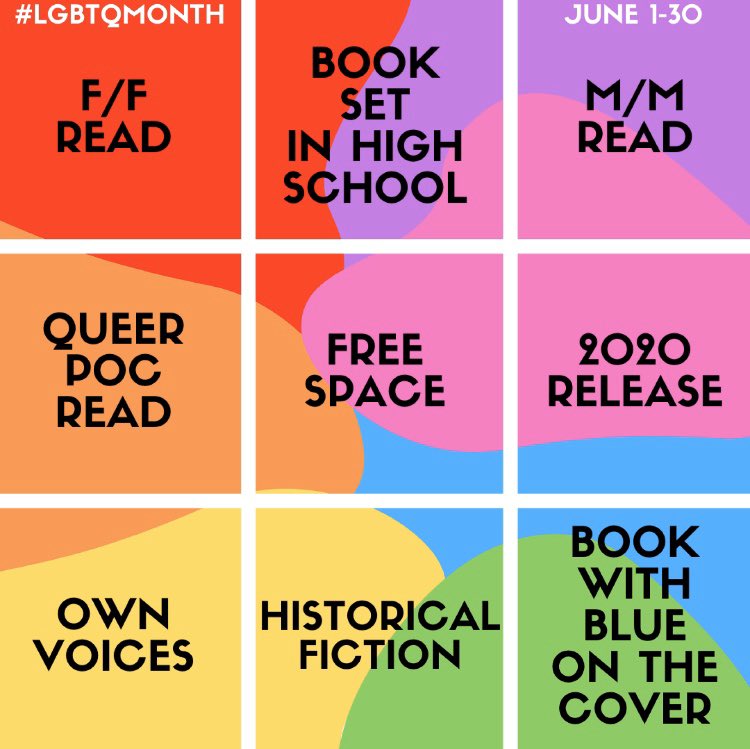 Books I'm reading for each for each prompt
An F/F read – A Little Light Mischief
A Book set in high school – You Asked For Perfect
An M/M read – My Brother's Husband
A book with a queer POC MC – The Henna Wars
A 2020 release – The Falling in Love Montage
An Own Voices book and a historical novel – Dangerous Remedy
A book with blue on the cover – All Boys Aren't Blue
I was also planning on taking part in the Gays Gone By/Historical Pride Readathon, but Lily, Jemima, and Eloise have decided to postpone it until later in the year, so instead I'm going to be picking up other LGBTQIAP+ books and books by Black authors:
I'm also hoping to take part in Layla's Six of Crows readalong, taking place in June.
This will be my first EVER reread of Six of Crows, so I'm really looking forward to it.
---
What's on your TBR for Pride month? Have you read any of these books?