As part of Library Loves month, and because I will never miss a chance to bang my drum and yell about libraries, I wanted to share some of my favourite libraries in the UK.
We're blessed by some truly beautiful libraries here and lucky enough to be able to visit most of them for free. So, if you live in any of these cities or are planning a visit, you could always drop in to see the libraries. They'll be more than worth the trip.
---
The Bodleian, Oxford
Oxford's Bodleian library is probably one of the most well-known in the UK. It's old and historic with character from an age gone by.
It has none of the modern features of Birmingham or London, but it holds a kind of reverence that can only come from buildings that have seen centuries. The old wood shelves look wonderful and they just have that library smell. 
The British Library, London
The British Library is a prime example of 'it's not the outside that matters, it's what's inside that counts'.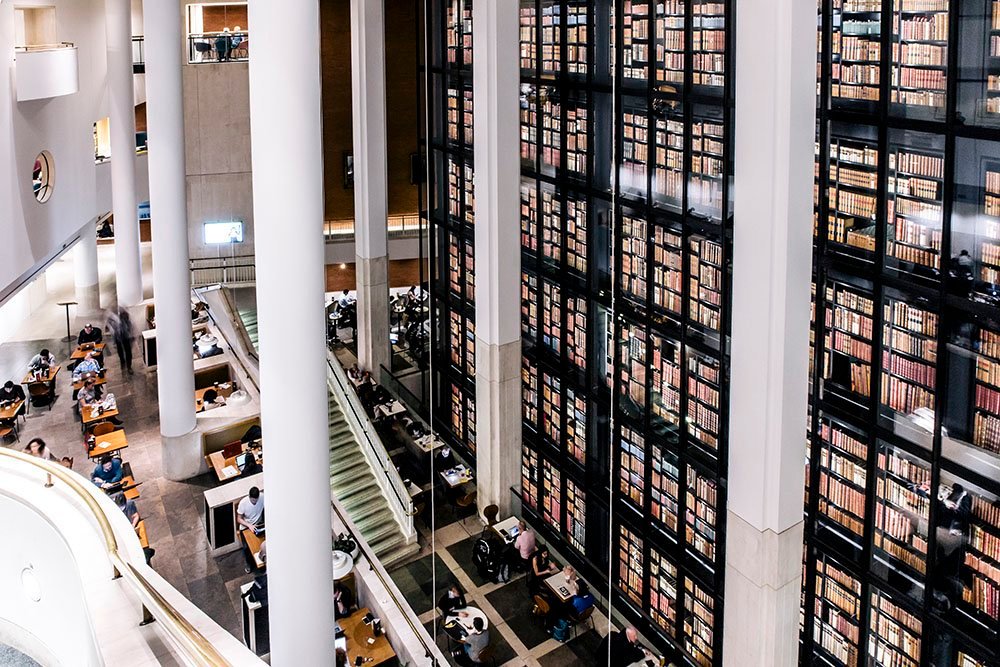 The outside is a nice red brick building, but it's not the most impressive library building I've ever seen (I said what I said, but BL, if you're reading this please don't bar me from coming back, I love you, thanks.)
But the inside is an absolute goldmine for readers.
Not only does it have several stunning reading rooms, but also numerous extensive collections including the King's Library (King George III, to be exact), Scandinavian printed collections, French revolutionary tracts, Russian avant garde collections, the Garrick Collection of English plays, and many more.
They also host exhibitions, free events, school visits, and talks. You could spend hours here and still not see everything, but it's oh so worth it anyway.
Birmingham Central library, Birmingham
Birmingham's main library is so modern and elegant. The outside is beautifully designed for an almost honeycomb-like effect, with lovely colours and balconies with gardens.
When the sun goes down the outside lights come on, lighting the library up in yellow and blue, or other colours for special occasions.
The inside is nothing to sniff at either. It has huge open plan rooms with bookshelves that tower above you (you need ladders to get to them), reading rooms, and study areas. And perhaps the best room of all is the Shakespeare room on the top floor.
This room houses one of the largest collection of Shakespearean and Shakespeare-related works in Europe (I believe, but don't quote me on that). It was originally designed by John Henry Chamberlain for Birmingham's Victorian Central Library and has carvings and metalwork of birds, flowers, and foliage. The room been preserved as close as possible to how it would have looked when in opened in 1882. And it's stunning.
Chetham's Library, Manchester
Chetham's Library is one of the oldest public libraries in Britain. It was founded in 1653, meaning it's been continuously in use for over 350 years.
Like the British Library, it houses numerous manuscripts and old, rare books dating back centuries. But unlike the British Library it looks old. It has the same 'leap-back-in-time' feel as The Bodleian, with its dark wood furnishings, narrow pews, and old book spines.
The arched ceilings are reminiscent of a church and the reading room has a round table that even King Arthur would approve of.
Liverpool Central Library, Liverpool
This library is a really interesting blend of old and modern. The atrium has beautiful new escalators that rise into the ceiling in an almost Harry Potter-esque manner (they don't move though), but the reading room is a different matter.
This huge, round dome boasts a gilded ceiling design, with a window in the centre, and burnished shelves stacked on top of one another. Some of the shelves jut out into the centre and the design is completed by a spiralling staircase to reach the upper shelves. Walking through those upper floors would be magical.
---
What are some of your favourite libraries? Have you ever visited any of these five?