Top Ten Tuesday was created by The Broke and the Bookish in June of 2010 and moved to That Artsy Reader Girl in January of 2018. It was born of a love of lists, a love of books, and a desire to bring bookish friends together. This week's theme is:
July 2: Childhood Favorites
For this week's theme, I chose a mixture of picture books that I read when I was very young, and young adult books that I enjoyed when I was a little older.
---
I loved this book as a child. A caterpillar eats its way through A TONNE of different fruits and eventually turns into a butterfly. What's not to enjoy?
Despite knowing the story off by heart, but I'd still read it over and over again.
We're Going On a Bear Hunt was such a fun book for me as a child because it was a little bit tense and a little bit exciting.
The family cross through the countryside jokingly looking for bears (what were they thinking). They don't expect to find one, but eventually do, and end up running all the way back home.
This was such a funny, memorable book! It's about, Marlon, a young lizard? dragon? (who knows) creature who won't give up his dummy/pacifier, or "noo-noo".
Marlon's Granny tries and tries to get him to get rid of it, but he refuses and eventually grows a whole tree of multicoloured dummies, which I loved.
I'm pretty sure I remember reading at least a few of the Katie Morag stories when I was younger, and they were wholesome fun.
Katie was headstrong and stubborn (lol, me as a kid) and I enjoyed her adventures.
Six-Dinner Sid was one of my absolute favourite books growing up.
I loved Sid's six different persona's and I found his craftiness endearing.
Plus, I'm a sucker for a happy ending, and this book has a great one.
The BFG was such a silly, fun book, and one I really enjoyed reading as a child.
I read a lot of Roald Dahl's other books growing up, but this was probably my favourite, followed closely by Matilda.
I think I read this for the first time when I was about 11 and fell under its spell.
It's about a spoiled young girl, Mary, who is sent to live with her uncle and discovers a secret garden (WHO WOULD HAVE THOUGHT) and a mysterious young boy. As the story progresses, Mary becomes less spoiled and learns to be thankful for the wonders of the garden.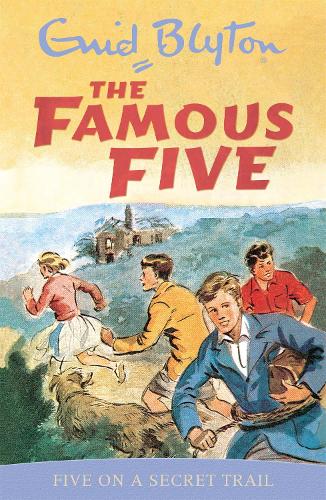 I got really addicted to The Famous Five books when I was about 8 and must have read at least ten of them. Even back then, I was already into squad vibes and adventure stories.
I know now that Enid Blyton's books contain a lot of underhand racism, sexism, and xenophobia, and I wouldn't choose to read them anymore, but I wasn't aware of these things at 8 (baby Kate was not woke) and I enjoyed the simplicity of the stories.
Oh yes. Of course Harry Potter made this list. I was too young to read the first book on my own when it released, so my Dad read most of it to me.
As I got a bit older, we read chapters of the Chamber of Secrets and Prisoner of Azkaban together, taking turns at reading out loud. By, the time the fourth book came out I was reading confidently on my own, so instead of my Dad reading to me, I read to him.
I think I read The Hobbit when I was about 11, so I wasn't exactly a 'child' anymore, but it had a lasting impact on me.
It was one of the first adult high fantasy novels I ever read, and it sparked my love of the genre.
---
Which books were your favourites as a child? Are there any that you still read?