It's been a while since I've done a tag, so voila. *hand flourish*
I was tagged to do this by Emma @Emma's Chapter, so thank you to Emma for nominating me (sorry it's taken me so long). Check out Emma's version of the tag here!
I talk all the time about books I'm desperate to read, but if you've ever wanted to know which books I'm not fussed about reading, then boi you're in for a treat.
---
A Hyped Book You Are Not Interested in Reading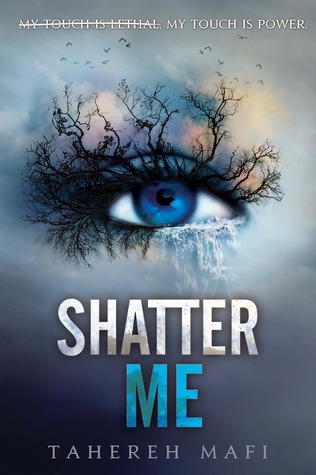 Sorry pals, I'm not going to be reading this one. Shatter Me sounds like something I probably would have enjoyed when I was 18 and massively into dystopias, but now not so much.
This is no disrespect to anyone who's read and enjoyed it, I'm sure it's a really fun read, it's just not one that's on my radar currently.
Series You Won't be Starting/Finishing
I can already feel the disappointment radiating off my friends that love Caraval (Vicky, Connie, Lauren, I'm s o r r y), but I've decided I'm not going to finish this series.
I enjoyed the first book, but I didn't feel hooked enough to pick up the second, especially with the POV switch, and now that the third is out I definitely don't think I'll be going back to this series. The world doesn't really hold any pull for me anymore.
A Classic You Aren't Interested In
I've got to apologise my girl Tash (from Tash Hearts Tolstoy), who would be outraged at what I'm about to say, but I'm not going to read War and Peace. I'm just not interested.
A lot of people read it for the prestige of being able to say they've read it, but I'm not going to be one of those people. It's over 1000 pages and follows Napoleon's invasion of Russia. That doesn't sound like something I'm going to have a riot reading. I'd much rather read other classics, like Vanity Fair and Emma, that are actually on my TBR.
A Genre You Never Read
A genre I never go in for? 'Chick lit'. I just don't feel excited by these stories and the way they're marketed. Even the name puts me off, I mean 'chick lit'? Can we stop comparing women to birds, guys? This isn't the 70s anymore, I thought we were past this.
'Women's fiction' would be better, although why publishers think that only women enjoy these types of books is beyond me. Defining the genre by gender only serves to further reinforce gender as a binary, and exclude people who don't identify as female or women from reading these novels. It's segregation marketing.
Wow, that turned into a rant. I respect people who love this genre because we all like different things, so no judgement from me. But chick lit doesn't really grab my attention, in the same way that fantasy or sci-fi does.
A Book on Your Shelves You Will Probably Never Actually Read
I really hope I'm wrong about this one, but I'm starting to worry that I'll never read Ember. It's been on my shelves for six or seven years and I've still not picked it up. I had a chance to read it during Asian Readathon earlier in May, but I didn't find the time.
I've also got my TBRs for the next few months roughly planned out and I don't foresee Ember fitting into them, somehow. Will I ever read this book??? Maybe. Maybe not. Maybe it's destined to sit on my shelves for another six years. Or maybe I'll surprise myself and find time for it this year.
---
Are there any popular books you're not interested in reading? Are there any on this list you think I should change my mind about?