YALC is the big UK literature convention that happens every summer and is undoubtedly the highlight of my bookish calendar.
I get to hang out with friends (which is especially fun when you haven't seen each other for ages), go to panels, and line up for author signings with my faves.
I don't think it's a prerequisite to read an author's book(s) before you go to their signing. Most authors are lovely and are just happy that you're there and want to get their book signed, regardless of whether you've actually read it or not yet.
But, having said that, I do like to have read it if I can, so that I can chat to them about it.
With that in mind, there are a few books I want to try and read before YALC, if I have time.
---
Seventeen-year-old Marianne is fated to one day become the Viper, defender of the Twelve Isles.
But the reigning Viper stands in her way. Corrupt and merciless, he prowls the seas in his warship, killing with impunity, leaving only pain and suffering in his wake.
He's the most dangerous man on the ocean . . . and he is Marianne's father.
She was born to protect the islands. But can she fight for them if it means losing her family, her home, the boy she loves – and perhaps even her life?
Hannah Eiríksdóttir has been banished from her home in London to a place of eternal punishment for the wicked. No, not Hell, but close: Iceland. There, she faces a new life working as a journalist for her father's newspaper – a man she barely knows.
Imogen Collins has the perfect life as a social media influencer, showing off her glamorous London existence to adoring fans. But behind the filters lies a dark secret. She thought she'd buried it: But the Beast is back – a ghost from her past who's threatening to ruin her future.
When a man is found murdered at the edge of the road in snowy Iceland the girls' lives collide. Imogen had the motive. Can Hannah find out the truth, and discover the reality of the girl beneath the filters?
Eighteen months ago, 17-year-old Rose and 13-year-old Rudder escaped a strict religious sect with their mum. They are still trying to make sense of the world outside – no more rules about clothes and books, films and music, no more technology bans. But also no more friendship with the people they've known all their lives, no community and no certainty. It doesn't help that their mum has to work all hours to pay rent on their cramped, smelly, one-bed flat above a kebab shop in Hackney.
While Rudder gorges on once-taboo Harry Potters and dances to Simon and Garfunkel and show tunes, Rose swaps the ankle skirts and uncut hair of the Woodford Pilgrims for Japanese-cute fairy dress and her new boyfriend, Kye. Kye, who she wants with all her being. But there's loads of scary stuff about their new life that Rose and Rudder have no idea how to handle – it's normal for girls to let their boyfriends take naked pictures of them, right?
When Rudder accidentally sets a devastating chain of events into action, Rose must decide whether to sacrifice everything and go back to the life she hates, in order to save the people she loves.
After the death of her sister, seventeen-year-old Violet Saunders finds herself dragged to Four Paths, New York. Violet may be a newcomer, but she soon learns her mother isn't: They belong to one of the revered founding families of the town, where stone bells hang above every doorway and danger lurks in the depths of the woods.
Justin Hawthorne's bloodline has protected Four Paths for generations from the Gray—a lifeless dimension that imprisons a brutal monster. After Justin fails to inherit his family's powers, his mother is determined to keep this humiliation a secret. But Justin can't let go of the future he was promised and the town he swore to protect.
Ever since Harper Carlisle lost her hand to an accident that left her stranded in the Gray for days, she has vowed revenge on the person who abandoned her: Justin Hawthorne. There are ripples of dissent in Four Paths, and Harper seizes an opportunity to take down the Hawthornes and change her destiny-to what extent, even she doesn't yet know.
The Gray is growing stronger every day, and its victims are piling up. When Violet accidentally unleashes the monster, all three must band together with the other Founders to unearth the dark truths behind their families' abilities—before the Gray devours them all.
Neena's always been a good girl – great grades, parent-approved friends and absolutely no boyfriends. But ever since her brother Akash left her, she's been slowly falling apart – and uncovering a new version of herself who is freer, but altogether more dangerous.
As her wild behaviour spirals more and more out of control, Neena's grip on her sanity begins to weaken too. And when her parents announce not one but two life-changing bombshells, she finally reaches breaking point.
But as Neena is about to discover, when your life falls apart, only love can piece you back together.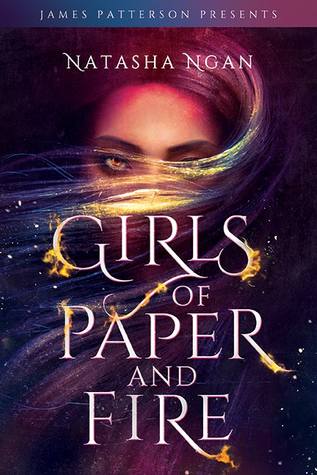 Each year, eight beautiful girls are chosen as Paper Girls to serve the king. It's the highest honor they could hope for…and the most cruel.
But this year, there's a ninth girl. And instead of paper, she's made of fire.
In this lush fantasy, Lei is a member of the Paper caste, the lowest and most oppressed class in Ikhara. She lives in a remote village with her father, where the decade-old trauma of watching her mother snatched by royal guards still haunts her. Now, the guards are back, and this time it's Lei they're after–the girl whose golden eyes have piqued the king's interest.
Over weeks of training in the opulent but stifling palace, Lei and eight other girls learn the skills and charm that befit being a king's consort. But Lei isn't content to watch her fate consume her. Instead, she does the unthinkable–she falls in love. Her forbidden romance becomes enmeshed with an explosive plot that threatens the very foundation of Ikhara, and Lei, still the wide-eyed country girl at heart, must decide just how far she's willing to go for justice and revenge.
At his wit's end, Zacharias Wythe, freed slave, eminently proficient magician, and Sorcerer Royal of the Unnatural Philosophers—one of the most respected organizations throughout all of Britain—ventures to the border of Fairyland to discover why England's magical stocks are drying up.
But when his adventure brings him in contact with a most unusual comrade, a woman with immense power and an unfathomable gift, he sets on a path which will alter the nature of sorcery in all of Britain—and the world at large.
---
Realistically, I don't think I'll get to all of these because I'm reading other books for pride month.
But I want to try and pick up as many as possible so I can chat about them (read: gush about them) to the authors about them when I get them signed.
Surprisingly, I'm feeling slightly ahead of the game this year, because I've already read a few books by authors who are going to YALC. These include:
Out of these seven, I've already got SBB and The Steel Prince signed, but I definitely want to take a few others.
---
Are you going to YALC this summer? Which books do you want to read beforehand/get signed?