May is always such a good month because the weather warms up and we have Two bank holidays in the UK. I was busy on both of them, but I still had plenty of time to get through some books for Asian Readathon.
I read 8 books during May and 7 of those were for Asian readathon.
American Panda // 3.5 stars // This was a fun story about a Taiwanese-American girl who's going to university for the first time. Mei has to navigate making friends and pursuing her passions, while keeping her parents happy. I enjoyed the fat rep and cultural nuances, and I've seen own voices reviews stating that the representation of Taiwanese-American culture made them feel seen, which is wonderful. The pacing was a hit and miss, but the plot was solid enough to keep this book engaging.
Challenge completed for Asian readathon: Read a book by an Asian author.
Bleach volume 44 // 4 stars // One of my reading goals for this year was to finish a few of the manga series that I've put on hold for the past few years and Bleach was one of them.
This has always been one of my favourite manga series and I only stopped reading it because I started reading more fiction again. It was so good to get back into it, and it felt like I'd never been away.
Challenge completed: Read a book by Asian author that was originally written in their native language.
Bleach volume 45 // 4 stars // I read this back to back with volume 45 and boy was it good.
A huge showdown is coming between most of the main protagonists and villains and I'm tense and excited at the same time. I already know what happens from the anime, but I'm still looking forward to reading the big climactic scenes in the books.
Challenge completed: Read a book by Asian author that was originally written in their native language.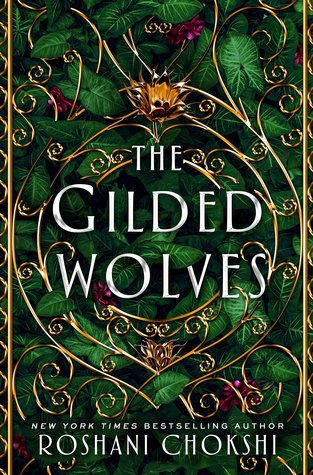 The Gilded Wolves // 4 stars // I have quite complex feelings towards this book because I was ready to love it. And for the first third of the book, I did. But then the plot started to flounder and the world-building lost clarity. The explanations of the Horus eye became muddled and I felt that the connection between the eye and the Babel fragments could have been written better.
There were a lot of things I really liked though. I liked the characters, especially Severin and Enrique, and I loved the effortless diversity that the author created. I also really liked the world-building before it lost clarity. 'Forging' reminded me a lot of alchemy and I appreciated the time and care that Roshani had clearly put in to the maths and science behind it. The twist at the end caught me off guard and I was left feeling pretty emotionally wrecked when I closed the book.
Challenge completed: Read a book by an Asian author.
Ms. Marvel volume 1 // 3 stars // I enjoyed reading this because I've been wanting to get to it for ages. The exposition was good, and I liked the way the characters were introduced. I did think that Kamala's powers weren't very well explained at first, making them a little confusing.
I would have preferred them to be explained earlier, but once we get an idea of what she can do, the fight scenes become a lot more fun. I also love Kamala as a character and really liked the way she discussed her own identity as a Pakistani-American Muslim. Looking forward to reading more of her adventures.
Challenge completed: Read a graphic novel featuring an Asian character or written/drawn by an Asian author (manga, manhua, manhwa, and comics count).
Kitchen // 2.5 stars // I've been meaning to read this for years, and I was sadly disappointed. I was expecting a slow-moving, lyrical story about love and loss, and I certainly got the slow-moving introspection, which I liked, but the and the dialogue was stilted. These dialogue issues might have been down to the translator, because I've seen reviews saying the original Japanese is well written.
The main characters weren't very memorable, aside from the trans character. But the other characters repeatedly dead-named her, which was uncomfortable to read, and the author/translator kept confusing 'transgender' and 'transvestite', which was pretty poor.
Challenge completed: Read a book featuring an intersectional Asian character or written by an intersectional Asian identity (i.e. queer, mixed, disabled, neurodiverse, etc).
Call Me By Your Name // 3 stars // I read this on audiobook and Armie Hammer was a great narrator. But although his narration certain didn't disappoint, the rest of the book wasn't quite what I expected. It's a lot more sexual than I thought (I don't think I'll ever be able to look at a peach in the same way), but the narrative is also a lot more languid.
It's a character-driven book, so I wasn't expecting a fast pace, but the slow-building descriptions of the characters and setting left me feeling a little detached from it all. I didn't connect with Ellio or Oliver, and although I enjoyed their adventures together, I wasn't invested in what happened to them.
The Love and Lies of Ruhksana Ali // 4 stars // I buddy read this with Charvi @NotJustFiction and we both really enjoyed it.  The pacing was spot on and I really liked Rukhsana as a character; she was knew her own mind and was determined to fight for what she believed in, even when there were so many people opposing her.
I found the dialogue repetitive at times, but I loved the way Sabina Khan included so many small detail of Bengali culture – the descriptions of the food, the dress, and the streets of Bangladesh were amazing. The f/f romance was sweet and I loved it.
Challenge completed: Read a book by an Asian author.
The only challenge I didn't complete was to read the group book, A Thousand Beginnings and Endings, which I was disappointed about, but I'll hopefully still read it this year.
So, to answer the question in the title of this post, no, I didn't read all the books on my TBR. But you know what? Sometimes that's OK. I read 6 of the 7 on my TBR and two extra books as well. So I don't think I did too badly.
In May, I wrote about characters that are literally me and books I'd dive into a volcano to protect.
I also wrote a full post about an evening with Victoria Schwab that I went to and recommended 7 new LGBTQIA+ contemporaries you should read this summer.
My blog tour post for Girl Gone Viral also went out last month and my review (unsurprisingly) ended up being a lot longer than I intended.
Leisure
I finally got to see Hollie at the start of May and we had an amazing long weekend in Bath. We visited book shops (they've extended Mr B's and it's incredible), had some great vegan food, and went for leisurely walks.
We discovered Gu's vegan cheesecakes and bought them two nights in a row because they were so good. We also spent a good amount of time laughing hysterically at YouTube videos, which is practically our MO at this point (we do this every time we meet up).
I picked up Labyrinth Lost and Under Rose-Tainted Skies while in Bath, and I'm excited to finally own a copy of each because they've been on my TBR for 2+ years.
At the end of May, my family came down for the weekend, which was lovely because I hadn't seen them since Christmas. We did some shopping, went for a meal, and they went on the steam railway trip. We also made some plans for my birthday which was exciting!
News
I found out in May that I'd been shortlisted for the Best Established blogger UKYABA award. I was so happy that I almost cried. Legit overwhelmed.
Thank you so much if you voted me onto the shortlist. I was thrilled to be longlisted, but I didn't expect to be shortlisted at all so I still kind of can't believe it. I feel so incredibly grateful to be a part of this community; you're all wonderful humans.
Hope you had a wonderful May!
---
What did you read in May? Did you get up to anything exciting?