For me, summer is the perfect time for fun, light-hearted contemporaries, with soft romances.
And there have been a lot of great LGBTQIA+ contemporaries that have hit shelves in the last couple of months.
So I've rounded up seven that I think would be ideal for the warm summer weather, and you might just want to add to your TBR.
---
The Princess and the Fangirl by Ashley Poston
Rep: F/F romance, M/M romance
Premise: While at a sci-fi convention for the weekend, actor Jess and convention pro Imogen have to swap lives so they can find out who stole Jess's secret script.
If you need convincing: There are two f/f romances, it's full of fandom and nerdy goodness, characters from Geekerella make an appearance, and there's ENEMIES-TO-LOVERS.
Hot Dog Girl by Jennifer Dugan
Rep: F/F romance, bisexual MC
Premise: Lou wants to have a the best summer ever, but she's landed a job working at the fairground and her crush is already with someone else. Summer is going to be trickier than she thought.
If you need convincing: Amusement park vibes, fake dating trope (which is challenged and addressed), SHE WEARS A GIANT HOT DOG OUTFIT.
The Music of What Happens by Bill Konigsberg
Rep: M/M romance
Premise: Max and Jordan meet in Arizona during a scorching summer and discover what it's like to find someone who's your opposite, but who understands you better than anyone else.
If you need convincing: The author has said this story is personal to their own experiences, both romantic and platonic relationships are celebrated, meet-cute at an 80s style food truck, need I say more?
Proud edited by Juno Dawson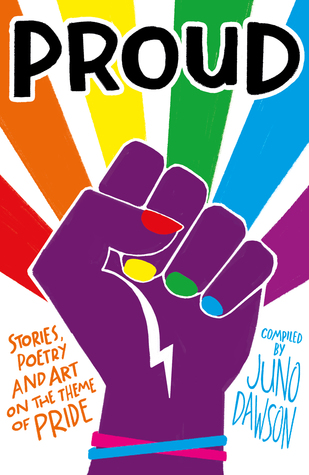 Rep: F/F romance, M/M romance, transgender characters, bisexual characters, questioning characters
Premise: An anthology of LGBT+ stories about all different issues, ranging from coming out, to discovering your sexuality, and questioning your gender identity.
If you need convincing: Heart-warming stories, uplifting messages and morals, every story is written by a queer person and they all have an illustration at the end.
Kings, Queens, and In-Betweens by Tanya Boteju
Rep: The main character is biracial and identifies as queer, but is still exploring her sexuality
Premise: After her mother's departure, Nima, bored of her insular town, becomes immersed in a nearby drag scene as she questions and explores her identity.
If you need convincing: Drag queens and kings, cute love interest, characters respecting each other's pronouns and using them correctly (be still my beating heart).
Going Off Script by Jen Wilde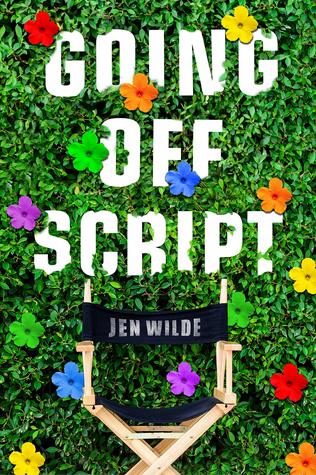 Rep: F/F romance, Indian American love interest
Premise: Bex gets her dream internship working on her favourite TV show, but when the head writer passes off her script as his own and straight-washes her lesbian character, she decides it's time to fight back.
If you need convincing: So many queer characters, MCs challenge sexism and homophobia, Dad jokes, critique of Hollywood culture.
The Weight of the Stars by K. Ancrum
Rep: F/F romance, and black main characters
Premise: Ryann dreams of being an astronaut, but doesn't think she'll ever get there. She meets Alexandria, whose mom is on a space mission and after an awful car accident, the two grow closer.
If you need convincing: Found families, incredible cast of diverse characters, beautiful writing, a mix of sci-fi and contemporary.
---
These are just a few of my recs for your LGBTQIA+ summer reading lists (I can definitely rec more if you want). Are you planning on picking any of these up?