April was a really fun month for me. I took part in the Aro Ace April and #ARCAttack reading challenges and hosted Easter Readathon for the second year running.
I managed to read nine books over the course of the month and read five out of the six on my TBR for Easter Readathon. So not a bad effort.
I managed to get through five books for #ARCAttack, but only one for Aro Ace April, which I was a little disappointed about.
Descendant of the Crane // 4 stars // I received an ARC of this because I was part of the street team (thanks Joan!) and I really enjoyed it. The magic system was well set up, and I loved the characters. Would 10/10 die for Akira and Hesina.
I also enjoyed the complexity of Hesina's relationship with Sanjing, and the subtle feminism running throughout the book really added to the story. There were times when connections between scenes were lacking, and the plot seemed to jump somewhere new without any explanation, but I think this might have been because I was reading an early proof. Overall, though, this lived up to a lot of my expectations.
We Are Blood and Thunder // 3.5 stars // Huge thanks to Bloomsbury for sending me an ARC of this. I was really excited to read WABAT after I first heard about it last year, but it definitely didn't turn out how I expected it to from the synopsis.
There's necromancy, magic, dark forests, cult-like temples, and a whole host of other things that I didn't see coming, but I ended up enjoying it nonetheless. The magic system developed gradually throughout the novel, which worked in its favour, but I didn't connect with many of the characters. The ending, though, was pretty brutal and really knocked me for six. Game of Thrones eat your heart out.
Moonstruck volume 1 // 4 stars // I was kindly gifted this by the lovely Moon Kestrel and oh my goodness, it was so soft.
I loved the main characters and the adventures they got themselves mixed up in. The setting is a world where humans and magical creatures coexist together, and the diversity in this story felt natural and wonderful. It was great to see f/f rep, m/m rep and non-binary characters taking centre stage on the page, and the humour was spot on.
My So-Called Bollywood Life // 4 stars // This was SUCH an enjoyable coming-of-age story. Thanks to Stripes for sending me an advance copy! What made this book special for me was all the Bollywood references. I loved how they were discussed in Winnie's reviews, and her dream sequences with Shah Rukh Khan were so funny. I've been wanting to get into Bollywood for a while and I now have plenty of recommendations to get started.
Romance is a really big part of the story, and there's something of a love triangle, but it mostly avoids the cliches. Dev is sweet and thoughtful, and his and Winnie's interest in each other has When Dimple Met Rishi vibes.
The Steel Prince volume 1 // 5 stars // Once again, my queen Victoria came through. This graphic novel was amazing. The art style, the colours, and the dialogue all came together so well to make this fast-paced and exciting first volume.
There were times in the ADSOM series when I didn't really like Maxim or agree with his decisions, so it was great to see a younger, more human version of him. I also loved Isra's character and it was great to see her get more development.
You can always count on V to write an excellent villain, and this volume is no exception. The Pirate Queen is ruthless and I enjoyed seeing her bone magic brought to life on the page. Basically, this was a 10/10 adventure for me and I can't believe I have to wait months for the next volume.
The Paper & Hearts Society // 4 stars // When this ARC came through my letterbox I screamed. I met Lucy through UKYAChat and we've been friends for a while now, so I couldn't be more happy and proud that she's publishing her debut novel this year.
And it's so good. It's filled with hopeful, uplifting messages about friendship, books, and believing in yourself. The dialogue is very funny and really brings the characters to life.
Friendship, bullying, and sexuality are all explored in a sensitive, thoughtful way, and I closed when I closed this book my heart felt very full. I also love Ed and would protect him with my life.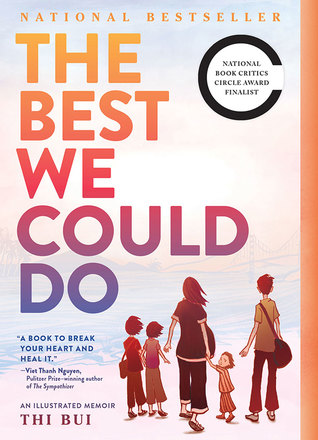 The Best We Could Do // 5 stars // This graphic novel is nothing short of stunning. At 300+ pages, it's probably the longest graphic novel I've read to date, and it's easily one of the best.
Thi Bui artfully tells the story of three generations of her family, from her parents' and grandparents' lives in Vietnam during civil unrest, to their emigration to America and her own teenage years.
She focuses on themes of family, love, and hardship, while looking at our purpose in the world. The art style is beautiful with its smooth lines and warm, muted colours. The Best We Could Do is incredibly powerful, moving, and I doubt I'll ever read anything else like it.
Girl Gone Viral // 4 stars // At its heart, this book is about friendship, technology, and empathy. It's about community, finding the truth and looking to the future.
I loved the characters, dialogue and the futuristic tech, as well as the representation of what it's like to be a teenager trying to get into university. The author strikes a balance between the fast-paced scenes and slower-paced moments of character development and the narrative is crisp and well-written. Keep an eye out for my full review  during the blog tour.
Tash Hearts Tolstoy // 4.5 stars // I've been wanting to read this for years and finally picked up a copy in Gay's The Word so I could read it for Aro Ace April. It didn't disappoint.
The characters are brilliantly written and the way Tash explored her asexuality really struck me, as this is something I'm still figuring out.
The dialogue was witty and fun, and the way Katherine Ormsbee writes about YouTube, the web series, and Tolstoy is brilliant. I almost with this wasn't a standalone so I could read more about Tash's adventures.
In April, I joined in with Off Tangent Thoughts, and wrote about the things I think about when organising my bookshelves. I also shared the most extra things I've done for books.
I posted an announcement about Easter Readathon, and I took part in the Crown of Feathers blog tour with a Q&A.
I also found out last month that I'd been nominated for four UKYABAs, which was incredible.
Events
I went to an evening with Alice Oseman and Lauren James at the beginning of April, which was fab. Alice talked at length about Heartstopper, her writing process, and her YA novels. She also gave us hints about the fourth YA novel she's writing, and confirmed that she'd be at YALC this summer.
Life
Last month I found out that I'd been nominated for in four categories of the UKYABA awards, and I was shook.
I tried (and mostly failed) to summarise my thoughts in a blog post about it, but I'm just blown away that people think my blog is good enough to be nominated for any awards. Thank you so much to everyone who put my forward. You basically made my year. ❤
At work, I won a monthly photography contest, which was unexpected and exciting. The photo I submitted (below) was one of the mountains in Germany that I took while I was there over Christmas.
Leisure
I must have said this about 87 times by this point, but I hosted Easter Readathon over the long Easter weekend, and it was great. I'll not go into more detail since I'm sure you're sick of hearing me mention it, but my full wrap up post is here if you want to read it.
I also got three Easter eggs for Easter, as a result of doing 'secret Easter bunny', which is basically like secret Santa, but with chocolate eggs. I still have one left to eat because I'm weak and can't eat chocolate as quickly as my 10-year-old self used to be able to.
I saw Avengers Endgame in April and I'm honestly not sure I'll ever recover. It was incredible. I got in from the cinema and lay down on the floor for 20 minutes, while trying to figure out how I was meant to return to real life. I have so many thoughts (and a couple of criticisms) about it that I'm considering writing a full blog post.
I also got another ear piercing over Easter, which was surprisingly pain-free??? I've been wanting to get another helix piercing for a while, so I finally made time for it over the long weekend, and got a little green stud. I have two now, but my plan is to eventually have about four helix piercings so my ear looks a bit like the photo on the right.
The softest thing that happened to me last month was when I got to meet and stroke my friend Jess's new puppy. She's called Mia and is so cute but also wants to eat everything. We played with her in the garden for a bit and it turns out she enjoys trying to chew socks. Adorable.
---
What books did you read during April? Did you do anything exciting or unusual?