This is a weekly series on my blog, where queer readers give us five of their most anticipated queer reads of 2019. New posts will be uploaded every Thursday, and each week a different reader/blogger will be featured.
The tenth and final instalment in the series is from the marvellous Shri @SunandChai. She shares five exciting LGBT+ releases that she can't wait to read this year.
---
The Love & Lies of of Rukhsana Ali by Sabine Khan
An own voices story about a Muslim Bangladeshi girl coming to terms with her identity and her family. This one hits so close to home it hurts and that's EXACTLY why I need to get my hands on it.
The Weight of the Stars by K. Ancrum
K. Ancrum gave us the masterpiece that was The Wicker King and I found myself engrossed in her writing. To know that she's going to do it again and this time with sapphics and a woc as the protag? Count me in!
The Lady's Guide to Celestial Mechanics by Olivia Waite
Sapphics and astronomy. That's it. That's the selling point. (It's a really good selling point.)
Bloom by Kevin Panetta
It's the soft bakery AU everyone always wants to read in fanfiction, and illustrated on top of that! The art on the cover is enthralling, and I can't wait to see what the rest of the graphic novel looks like.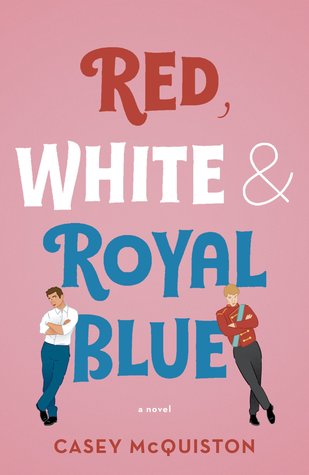 Red, White, and Royal Blue by Casey Mcquiston
It's a hate to love fake dating m/m romantic comedy ft. politics! Did this just check off every trope I love? Absolutely.
---
Shri is desi, bi, and an unfortunate yuppie making my life a lot more interesting by taking up book blogging. She tends to lean a lot towards Own Voices books and poc-centric fantasies. In her spare time, she sleeps, plays lots of video games, and tries not to indulge in retail therapy too much.
What are some of your most anticipated LGBT+ releases for 2019? Are you planning to read any of Shri's picks?
---
Check out the other posts in the series:
Week one // Imi @ImiReviewsBooks
Week two // Olivia @HeirofGlitter
Week three // Charlotte @WonderfullyBookish
Week four // Stephi @StephiCham
Week five // Jocelyne @Brigandells
Week six // A questioning teen blogger
Week seven // Hollie @Hollieblog
Week eight // Lorin @TeaRecsBookReview
Week nine // Kaeley @Kliscruggs
Thanks to everyone who's taken part in this series! I couldn't have done it without you and it's been wonderful to see all your anticipated LGBT+ reads for this year.