This is a weekly series on my blog, where queer readers give us five of their most anticipated queer reads of 2019. New posts will be uploaded every Thursday, and each week a different reader/blogger will be featured.
The ninth instalment in the series is from the lovely Kaeley @kliscruggs shares with us five queer books she can't wait to read.
---
Tell Me How You Really Feel by Aminah Mae Safi
I am in love with the cover of this book! It brings me so much joy. And honestly the title totally sets the tone for the aesthetic. It's very 10 Things I Hate About You and I love it for that.
The Confusion of Laurel Graham by Adrienne Kisner
I absolutely love the concept of this book. I'm not sure what the queer rep is yet from the summary I read (I think it might be ace rep), but I'm so excited for the main character and her ambitious nature—it's something that resonates with me really well.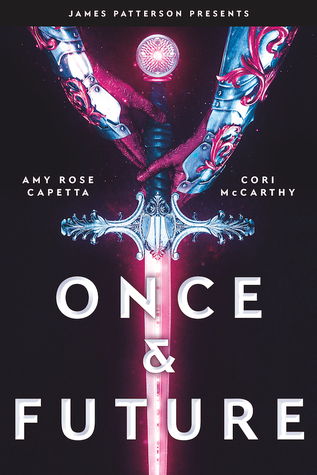 Once & Future by Amy Rose Capetta and Cori McCarthy
We have a queer King Arthur retelling in the year of our Lord 2019, we've really been blessed. I was so excited to hear about this book when it was announced and then I found out it's King Arthur by with GIRLS and that just made it so much better.

Small Town Hearts by Lillie Vale
I'm living for this sweet romance about a bi girl who works at a coffee shop. It's the book of my heart, and might just inspire me to write my coffee shop book finally!

Laura Dean Keeps Breaking Up With Me by Mariko Tamaki and Rosemary Valero O'Connell
I just want to read more Mariko Tamaki graphic novels. That's 100 percent all this is. I love graphic novels and I love the mystery element to this one.
---
Kaeley loves to read, watch animated series, and eat all different types of cuisines. She can always be found scouring Goodreads for another Pride and Prejudice retelling (the 2005 Kiera Knightly version is the best) or eating any kind of food. Right now, she works in tech and will probably stay there for a long time. She's always looking for more people to chat with about anything. You can find her on Instagram, WordPress, or Twitter.
What are some of your most anticipated LGBT+ releases for 2019? Are you planning to read any of Kaeley's picks?

---
Check out the other posts in the series:
Week one // Imi @ImiReviewsBooks
Week two // Olivia @HeirofGlitter
Week three // Charlotte @WonderfullyBookish
Week four // Stephi @StephiCham
Week five // Jocelyne @Brigandells
Week six // A questioning teen blogger
Week seven // Hollie @Hollieblog
Week eight // Lorin @TeaRecsBookReview