February seemed to be over before it had barely begun. I didn't manage to read that many books because I spent the last two weeks of the month reading the giant that is The Priory of the Orange Tree. I finished it at the beginning of March so it'll be in my March wrap up, but let me just say, it was phenomenal.
As a result of reading Priory, I only read five books this month and didn't get through as many books for F/F Feb as I'd hoped, though I did still read Proud and Once & Future. But honestly? Reading Priory was 100% worth it. It's probably one of the best books I've ever read and I'd highly recommend it.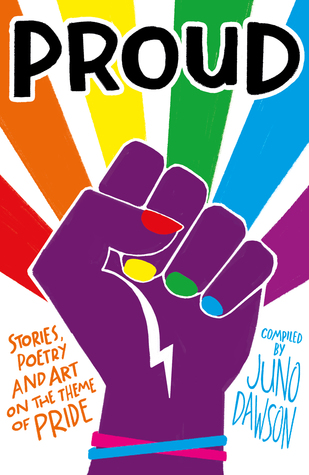 Proud // 4.5 stars // This collection is wonderful and I loved reading it so much. Each story focuses on different characters of different orientations, as they figure out what it means to be a queer teen in today's society. There are gay, bi, lesbian, trans, queer, and questioning characters, and it was so easy to invest in every single one of them. Some stories are about coming out, some are about finding acceptance, and some are about finding friendship and romance. The whole collection is so uplifting and so, so important. Not going to lie, several of the stories made made me tear up and a couple made me laugh aloud, but they all touched me in different ways. My heart was so full after reading this anthology.
Fence volume 2 // 4 stars // I'm so taken with this series. Volume 2 was just as good as volume one in terms of drama and plot progression. There was more character development, and an unexpected twist in one of Seiji's fights. I'm starting to warm up to Seiji slightly, even though he acts like the world's biggest douche at times, and I just love Nicolas. He's so hard-headed and oblivious, but incredibly likable and driven. 10/10 would protect him with my life.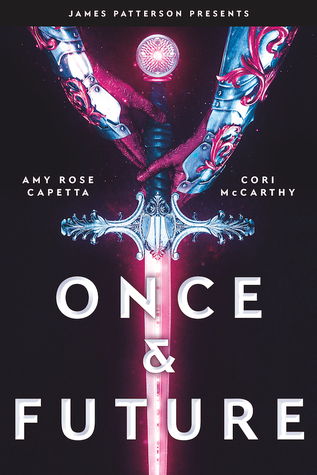 Once & Future // 3 stars // I read this for F/F February and was really excited for a sci-fi Arthurian retelling, but ended up being disappointed. The plot was all over the place, jumping from one location/event to the next within the space of a paragraph, and the writing style was clumsy. I loved how queer all the characters were (there's an f/f romance, an m/m romance, a non-binary character, an ace character, a pansexual character, and one characters has two moms) and I really enjoyed the sci-fi elements of the world-building, although there wasn't enough exposition at the beginning of the story. The dialogue also seemed to loose focus at times, but I did enjoy the interactions between the main group of characters. There was so much open honesty about being queer and nobody was judged or shamed for their orientations, which was great. Overall, this was a fun romp, but it could have been executed better.
RWBY vol 1 // 3 stars // I had assumed this was going to be the first volume in a longer series, but instead it was a fun collection of short comics by different mangakas. I enjoyed the comics, but felt like I should have watched the anime before reading this volume. I didn't know who some of the side characters were and the way the comics are laid out gives the impression that you're expected to know them already. There are also a few inside jokes that go awry if you haven't watched the series, so if you were thinking of reading this, I'd recommend watching the anime first. Some of the art styles didn't really do it for me, but others were great, so this ended up being an entertaining read.
Then We'd Be Happy // 2.5 stars // This book follows a group of lower-middle class Americans as they decide what they want out of life and figure out what's important to them. The novel itself is more like a collection of vignettes and is a short read as a result (I read it in about an hour). The narrative was inoffensive if a little bland, but the characters weren't easy to warm up to so I wasn't too fussed about what happened to them.
---
During February, I posted more installments in my series where queer readers pick their five most anticipated reads of 2019. You can read each post so far here:
Week one // Imi @ImiReviewsBooks
Week two // Olivia @HeirofGlitter
Week three // Charlotte @WonderfullyBookish
Week four // Stephi @StephiCham
Week five // Jocelyne @Brigandells
Week six // A questioning teen blogger
Week seven // Hollie @Hollieblog
I also predicted my 5 star reads of 2019 and talked about some of the characters that I would NOT want to switch places with (sorry guys).
Beth @Booksnest tagged me in the I Should Have Read That Book Tag and I had a lot of fun filling that out.
---
February was a month. There were some wonderful highs, some stressful days, and some quiet weekends.
I went to see a ballet version of Beauty and the Beast with my sister. I got us the tickets for her birthday present and I'm so glad I did because it was really good. The story was told so well and the group dances were amazing.
The news that I was being made permanent at work (I've been a contractor for a year and a bit) was finally announced and I could talk to my friends freely about it, which was great. We went out for a celebratory lunch too.
Work itself was very busy. Our publishing team were trying to complete eight catalogs for an tight deadline and things were very full on. I definitely prefer being busy to having little to do though, and it was satisfying to see each task get completed before the deadline.
I made ramen for the first time and it was OK??? It certainly didn't look as great as restaurant-standard meals (read: it was a mess), but it tasted pretty good.
I watched Star Wars: A New Hope for the first time ever. Yep, you heard it, ever. I've been meaning to watch it for years so I'm really pleased I finally got round to it, and I enjoyed it too!
I won a copy of Kingdom of Copper on Twitter and the lovely people at Harper Voyager sent it straight over to me.
I'd been lamenting not being able to get copies of the original hardbacks of Six of Crows and Crooked Kingdom because I discovered the duology when they were already out in paperback, but my friend James, like a true hero, FOUND THEM AND SENT THEM TO ME. Friends, I screamed.
What did you read during February? Did you get up to anything exciting?