This is a brand new weekly series on my blog, where queer readers give us five of their most anticipated queer reads of 2019. New posts will be uploaded every Thursday, and each week a different reader/blogger will be featured.
The fifth instalment in the series comes from the brilliant Jocelyne @Brigandells. Today she's sharing her top five most anticipated queer reads of 2019.
---

These Witches Don't Burn by Isabel Sterling
Witches are cool enough but sapphic witches solving mysteries? Sign me up. I'm looking forward to this YA fantasy that takes place in modern day Salem. #OwnVoices

Naturally Tan by Tan France
In this memoir, the talented and hilarious Tan France from Queer Eye discusses his life growing up as a POC and queer person. He also talks about how growing up in a religious family, something I can relate to, has influenced him. #OwnVoices (Obviously, it's an autobiography.)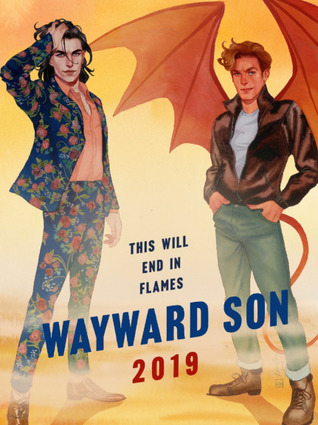 Wayward Son by Rainbow Rowell
While not much has been revealed about Wayward Son's plot, the second book in the Carry On series will feature two major queer characters (mlm). I loved the first book so this is definitely on the list.
A Place for Wolves by Kosoko Jackson
I am one hundred percent ready to have my heart broken numerous times by this book. Featuring a black protagonist, this novel will follow the story of two boys whose love gives them the strength to survive. #OwnVoices

Kings, Queens, and In-Betweens by Tanya Boteju
In this sapphic coming-of-age novel, our heroine Nima discovers the drag community and, in turn, herself. I'm excited to read about a biracial queer girl. As a bonus, it's written by a Canadian author! #OwnVoices
---

Jocelyne is a bi woc living on the traditional land of the Huron-Wendat, the Seneca, and most recently, the Mississaugas of the Credit River (Toronto, Canada). She frequently posts about books on her Instagram and occasionally reviews books on her blog.

What are some of your most anticipated LGBT+ releases for 2019? Are you going to read any of Jocelyne's picks?
Check out the other posts in the series:
Week one // Imi @ImiReviewsBooks
Week two // Olivia @HeirofGlitter
Week three // Charlotte @WonderfullyBookish
Week four // Stephi @StephiCham