This I remember saying in December that my next wrap up would be at the end of January 2019 and here we are. I read nine books this month, so somehow I'm now three books ahead of my Goodreads reading challenge. Three whole books. Everyone remember this moment, because once I fall behind (and I will) I'll probably be behind until the end of the year.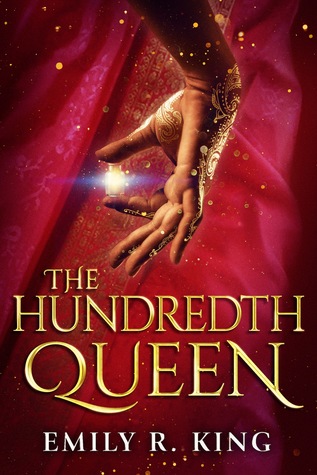 The Hundredth Queen // 3.5 stars // Although I enjoyed this story, I don't think it does anything new within its genre. I was expecting a lot more from the narrative, but I found the first person present tense stilted and it didn't make me warm to the protagonist, Kali. The writing improves as the plot progresses, but it was definitely responsible for some of the cliches in the book. The subtle elemental magic was a good addition, but the romance was too instalove-y for my tastes, although I did warm to the love interest as the plot developed. One of my main issues with this book is that it's a story about Asian characters and culture, written by a non-Asian author, and as a white reader, I don't know whether the representation is accurate or not.
The Girl King // 3 stars // I was really looking forward to this book, but found it disappointing. The plot wasn't cohesive and elements of the world-building seemed to be dropped in at random more than halfway through the story. Pacing was also an issue, and Nok was the only character I felt invested in. There's an attempted rape scene that really didn't need to be there, as it added nothing to the plot, and was never mentioned again by any, or challenged in any way. It also paints the only potentially queer character in the novel as a predator and abuser. Having said all that, the book did some things really well. The Asian-inspired folklore was rich and enjoyable, and I really liked the fact that there was an Asian-based naming system for all characters, as it served to deepen the world-building. On the whole, the concept for this book had a lot of potential, but the execution wasn't great.
Giant Days vol 2 // 3 stars // I enjoyed this volume as much as the first one, although I've noticed that series doesn't really have an overarching plot, it's more episodic. I don't mind this style of story telling because I think it suits the whimsy of this GD, and lends itself to more humorous moments. The art style did seem to change slightly, though, in this volume, and I didn't like it as much as the first volume's style, but overall this was still a fun read.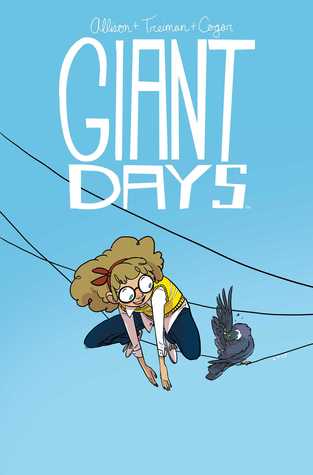 Giant Days vol 3 // 4 stars // This was definitely my favourite volume of the series so far. The art was great and the character development and group friendships really began to come together. In the first two volumes, each chapter felt episodic (to the detriment of the story), whereas in this volume they all linked up to create a more cohesive plot. The themes explored in this volume – struggles of university, relationships, and young parents – were all significant, and lent more gravity to the story. I'm keen to see where this series goes next because this was such a good volume.
Outside // 3.5 stars // This novel is about a young girl, Ele, who has lived most of her life inside, but finally gets to experience the outside. There are some incredibly dark moments in this book, but these are balanced by Ele's found family and her enjoyment of nature. The narrative becomes confused during the chapters when Ele wakes up in an unfamiliar place, and although this is meant to reflect her own confusion, it wasn't executed as well as it could have been. The pacing is also very slow at the beginning of the story, but it gradually picks up the pace as the plot progresses. Aside from a few scenes that were a little contrived (Willow's Dad, Ezra, doesn't question why her parents aren't looking for her until she's been living with them for days), this was a tense story with some great twists.
Kick the Moon // 3.5 stars // This book follows Ilyias, a British-Pakistani teen, who loves drawing superheros and comics, but ends up getting involved with a gang at his school. I read Muhammad Khan's debut, I Am Thunder, last year and I enjoyed it but thought there were issues with stereotyping and dialogue. In this novel, his writing style and dialogue have really improved and the plot and pacing were solid throughout. The characters, however, still play to a lot of stereotypes. Discussions of diversity and privilege are present throughout and sexism and homophobia are also addressed later. The end of the story, however, felt a bit rushed and could have done with another chapter or two to close things out fully.
Snotgirl vol 1 // 3 stars // This was an intriguing, if odd, first volume, that follows the life of Lottie, a social media influencer. The main draw for me was the art style, which is pretty gorgeous. The colours are soft and the pastel panels are some of my favourite scenes. The main issue with this volume, is that the plot doesn't feel chronological and events happen but are then left completely unexplained, confusing the plot further. Some of the bigger, more dramatic scenes happen right before the end of a chapter, and where we'd expect the next chapter to address them and continue chronologically, it doesn't. Instead, it moves on to something entirely different. I also didn't particularly warm to any of the characters, who were all pretty superficial and found this volume a bit disappointing.
Bloom // 4.5 stars // Bloom centres around Ari, a queer teen of Greek descent, and Hector, a black, queer teen, who moves to Ari's town for the summer to clear out his late Grandmother's home. This is one of the best graphic novel's I've read in a long time. The art style, plot, and character development are all skillfully rendered and combine to create a wonderful story. Ari and Hector's romance is incredibly sweet and heart-warming, and the messages of family, friendship, and figuring out what you want in life and will stay with you long after you've finished reading. (Read my full review here.)
Virtuoso // 1.5 stars // Yeah, I really didn't like this book unfortunately. I thought this book was going to be a mesmerising sapphic tale, but sadly it was just very strange and uncomfortable to read. Virtuoso follows two queer couples as their lives intertwine throughout the decades across the US and Czech Republic. The narrative and plot were both fragmented, and it was often difficult to tell which era we were reading about and where the characters were. The pacing was far too slow, and the dialogue didn't captivate me at all. There were several questionably racist remarks throughout the novel, only one of which was challenged, and there was an incredibly disturbing scene where children hold down one of the main characters and molest her. This book is pretty sexual in nature, but it often crosses a line in its content, both in that rape scene, and in another scene where a young girl describes needing to make herself 'more molestable' for older men. I understand that this book was trying to be literary and subvert genre norms, but on the whole I just found it very uncomfortable and unpleasant to read.
---
In January I started a brand new series on my blog, where queer readers choose their 5 most anticipated LGBT+ reads of 2019. This is a weekly series, running every Thursday, and I'd love it if you'd go and check the first two posts out.
I also (somehow) narrowed down my top 25 most anticipated releases for the first half of 2019, and revealed the cover for Robin LaFevers' new novel, Courting Darkness.
---
As far as beginnings to the year go, it's been a good one. Here are some of the things I got up to:
The first two days of the new year were also my final two in Germany and when we came home, we had a 'second Christmas' where we opened the presents we couldn't take with us.
My bf and I went to Birmingham for the weekend and we had sushi and pancakes, and went shopping, which was a lot of fun.
I went to the Stripes blogging event in London and met up with some of my best pals. Hollie @hollieblog and I went book shopping before the event and both ended up getting The Gilded Wolves and Fence volume 2. I also met up with one of my good friends afterwards and we went to Leon for vegan donuts (spoiler: they were great).
The event itself was fantastic. Stripes were promoting their new anthology Proud, which comes out in March, and several of the authors involved in the anthology were there to give talks about their stories. There was also the chance to pick up a few other ARCs, and I got a copy of My So-Called Bollywood Life. I didn't know Stripes were publishing it that day, so I was really happy that it's been picked up by a UK publisher, and that I was able to get a copy.
I also got ill this month, which was annoying as I ended up having to take two days off work during a really busy period, but there wasn't really much I could have done about it. Thankfully I'm feeling a lot better now!
I started watching a new k-drama on Netflix called Moorim School. It has a lot of things I'm a sucker for – university/school settings, enemies-to-friends, badass women, magic – so I'm interested to see where it goes.
---
What did you read in January? Did you get up to anything exciting?