Looking back, I'm pleased with the reading I did this year. I re-read the first book in my favourite series, and achieved pretty much all of the goals I set myself. I also discovered new favourites that will likely stay with me forever, so I wanted to round up the best books I read this year.
---
5 star reads
Victor and Eli started out as college roommates—brilliant, arrogant, lonely boys who recognized the same sharpness and ambition in each other. In their senior year, a shared research interest in adrenaline, near-death experiences, and seemingly supernatural events reveals an intriguing possibility: that under the right conditions, someone could develop extraordinary abilities. But when their thesis moves from the academic to the experimental, things go horribly wrong. 
Ten years later, Victor breaks out of prison, determined to catch up to his old friend (now foe), aided by a young girl whose reserved nature obscures a stunning ability. Meanwhile, Eli is on a mission to eradicate every other super-powered person that he can find—aside from his sidekick, an enigmatic woman with an unbreakable will. Armed with terrible power on both sides, driven by the memory of betrayal and loss, the archnemeses have set a course for revenge—but who will be left alive at the end?
Sydney once had Serena—beloved sister, betrayed enemy, powerful ally. But now she is alone, except for her thrice-dead dog, Dol, and then there's Victor, who thinks Sydney doesn't know about his most recent act of vengeance.
Victor himself is under the radar these days—being buried and re-animated can strike concern even if one has superhuman powers. But despite his own worries, his anger remains. And Eli Ever still has yet to pay for the evil he has done.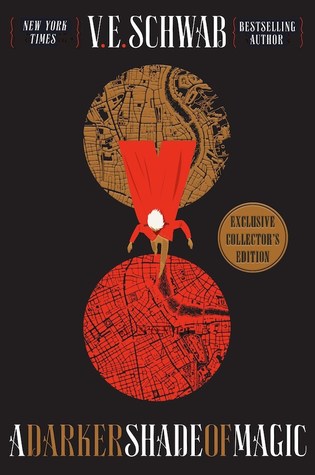 Kell is one of the last Antari―magicians with a rare, coveted ability to travel between parallel Londons; Red, Grey, White, and, once upon a time, Black. Kell was raised in Arnes―Red London―and officially serves the Maresh Empire as an ambassador, traveling between the frequent bloody regime changes in White London and the court of George III in the dullest of Londons, the one without any magic left to see.
Unofficially, Kell is a smuggler, servicing people willing to pay for even the smallest glimpses of a world they'll never see. It's a defiant hobby with dangerous consequences, which Kell is now seeing firsthand.
After an exchange goes awry, Kell escapes to Grey London and runs into Delilah Bard, a cut-purse with lofty aspirations. She first robs him, then saves him from a deadly enemy, and finally forces Kell to spirit her to another world for a proper adventure. Now perilous magic is afoot, and treachery lurks at every turn. To save all of the worlds, they'll first need to stay alive.
Charlie Spring is in Year 10 at Truham Grammar School for Boys. The past year hasn't been too great, but at least he's not being bullied anymore, and he's sort of got a boyfriend, even if he's kind of mean and only wants to meet up in secret.
Nick Nelson is in Year 11 and on the school rugby team. He's heard a little about Charlie – the kid who was outed last year and bullied for a few months – but he's never had the opportunity to talk to him. That is, until the start of January, in which Nick and Charlie are placed in the same form group and made to sit together.
They quickly become friends, and soon Charlie is falling hard for Nick, even though he doesn't think he has a chance. But love works in surprising ways, and sometimes good things are waiting just around the corner…
A personal and powerful essay from Chimamanda Ngozi Adichie, the bestselling author of 'Americanah' and 'Half of a Yellow Sun', based on her 2013 TEDx Talk of the same name.
---
I know, only five books were 5 star reads?! Yes, these five. I'm quite stingy with giving out 5 stars and a book has to completely stun me to get the top rating; it has to be brilliantly written, well plotted, and have an exquisitely built world, with characters that are unique and interesting. It also has to captivate my heart and mind, and these five books did just that. I couldn't fault them in any way and they enthralled me completely.
---
Other favourites
Although I don't give many books 5 stars, there were plenty of others that I loved and they also deserve a mention for how great they were.
Fantasy
I adored these four books because they had everything I want in a fantasy novel: dramatic fight scenes, magic, characters I would die for, and dicey politics.
Contemporary and romance
What If It's Us and Autoboyography were such soft gay romances that I immediately fell in love with them, and Starfish and Radio Silence not only had wonderful characters, but also discussed important messages that I was fully on board with.
Supernatural and slice-of-life
A Girl Like That was a surprise favourite for me because I didn't read the synopsis fully, so didn't know what to expect when going into it – which turned out to be a really good thing. Convenience Store Woman was such a funny, satirical book, and City of Ghosts was spooky in the best day.
---
Collectively, these were my favourite books of 2018, although I'm sure as soon as I hit 'post' and then remember five more that I really enjoyed. All of these were either 4, 4.5, or 5 star reads, and any authors that weren't already old favourites are now newly discovered faves.
What were your favourite books of 2018? Did you love or hate any of the books on this list?